Total Email Marketing Program Reap the benefits of both Thrust & Trigger Emails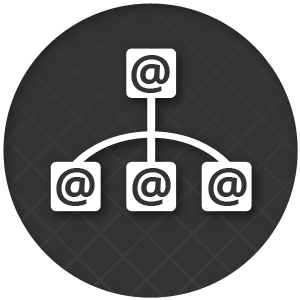 If your business does not currently include a comprehensive email marketing program, you are passing up one of the most proven and profitable strategies available to any web-based enterprise. For all of our clients, ongoing "trigger" and "thrust" emails provide a substantial boost in revenues. And from a return-on investment perspective, for many of our clients their total email program was the single best marketing move they ever made.
Increase your Online Sales
with a comprehensive email program.
Call 1-888-838-1828 or
---
Trigger Emails
You need to have ready-to-go emails that are sent out automatically, "triggered" by common events or actions your customers take. For example:
Perhaps they purchased an item that has accessories available. This is the perfect opportunity for an automatic upsell email concerning those accessories. We can show you effective upsell techniques that work.
If they purchased an item that is consumable, an automatic email offering a discount on future purchases or a great quantity of the same item gives them an incentive for loyalty. Let us show you how other e-businesses have successfully increased their lifetime customer value.
Many customer orders clearly reveal their interests, or concerns. If done in the correct way, trigger emails let you target those customer interests or concerns successfully and helpfully, without appearing intrusive. Let us show you examples that work.
And if you don't have an automatic abandoned cart email in place, you are probably passing up hundreds of thousands – if not millions of dollars – in possible revenue. A series of carefully timed emails letting customers know they have forgotten items in their cart can be highly successful in getting them to complete their purchases. Many of our clients were amazed at the missed opportunities such an email program rescued for them.
One of the real strengths of a trigger mail program from Eight by Eight is that once it is in place, it continues to work on "automatic pilot" for you, bringing you returns on your initial investment for years. Monitoring and testing allow you to fine tune the program to keep it improving and relevant in changing market conditions.

---
Thrust Emails
Most companies know they should be soliciting business through emails, but many are unsure precisely how to go about it. How many should they be sending out? How can they mail to particular segments of their customer base more effectively? What should they say in their emails. This is where Eight by Eight can help. We know from past experience and testing how thrust emails work, and, more importantly, we take the time to custom tailor your thrust email program to your business, your customers, and your goals as a company. You benefit both from the success of other email programs and the unique strengths and "personality" of your business.
Together, these two arms of a total email marketing program are greater than the sum of their individual parts. What you learn from one arm can often be applied profitably to other arm — and to other aspects of your business, such as what new products to produce, or what new audiences to try to reach.
Eight by Eight has helped many companies develop total email marketing programs — or put existing email marketing program on the right track. Contact us for a quote and let's discuss how your business can make more effective use of targeted emails to increase both profits and knowledge of customer behavior.

---
Increase your Online Sales with a comprehensive email program.
Call 1-888-838-1828 or