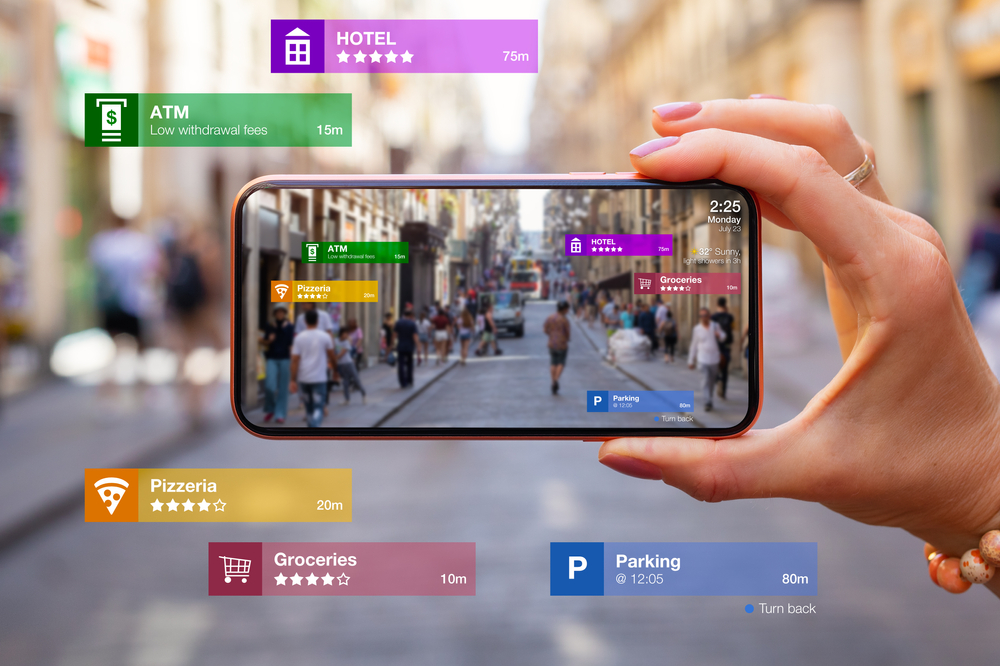 Augmented Reality (AR) allows us to superimpose a computer-generated image on a picture of ourselves and/or our surroundings to create an enhanced (composite) view.
Example: Many consultants cite Pokemon Go or Snapchat when discussing AR. You could also look at Google's AR feature on maps. (Just hold up your phone in front of you, and it will overlay the view with BIG arrows to point you in the right direction.) Or, if you prefer to see something more retail/business-oriented, check out IKEA's AR Mobile App, Sephora's Try-On App, Gap's Dressing Room, or Warby Parker's App. (If you have tiny humans in your life, be sure to check out Lego's Hidden Side.)
Virtual Reality (VR) is a computer-generated environment with scenes, objects, and beings that appear real, making you feel immersed in your simulated surroundings. With VR, you put on your headset (goggles and headphones) and accessories (gloves, for example) and let yourself be transported to a new 3D world for exploring and interaction.
Examples: Check out your kid's Oculus Quest or go to a movie theater/arcade with VR games to get a real VR experience firsthand. You can also look at the Merrell hiking shoe launch or TOMS's "A Walk in Their Shoes" Campaign.
Mixed Reality (MR) is essentially an upgrade to Augmented Reality (AR). AR enhances a user's perception of the real world.  Mixed Reality blends the real and imaginary worlds together, allowing users to interact with the combined worlds (physical and virtual.)
Extended Reality (XR) is an umbrella term for augmented, virtual, and mixed realities.
Reality/Talking Avatar allows live interaction between a 3D character controlled by an actor in real-time. This is an AR technique.
Have tips you'd like to share about the different types of AI realities? Have a question about them or marketing AI? Tweet @amyafrica or write info@eightbyeight.com.
A Down-and-Dirty Definition for Marketers (read more about these here.)